[caption id="" align="aligncenter" width="614" caption="an array of things, but not a cucumber. there should be a cucumber in there somewhere...whoops."]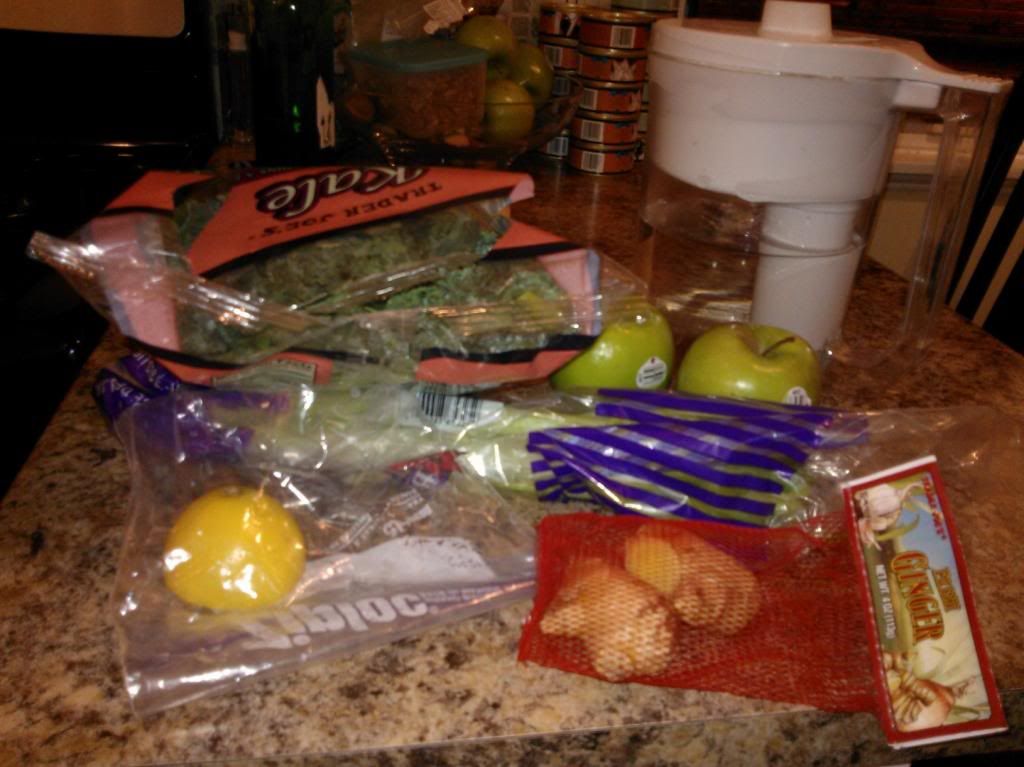 [/caption]
I have been sick for the last two days, which for me, means that I have been basically asleep for the last two days. Since I live in a house with very affectionate cats, this has meant very happy cats, and the occasional nightmare where I think I'm dying, but it's just Donald trying to sleep on my chest. he weighs 17 pounds. I am never without company, is what I'm trying to say.
During the three hours that I was awake yesterday, I watched
"Fat, Sick and Nearly Dead."
It was interesting. I hated the animations, and the Australian dude was kind of annoying. However, Phil Staples was awesome, and there were some interesting things mentioned in the movie. Mostly, if you tell me that something might help eliminate migraines, and it's not dangerous or prohibitively expensive, I'm going to try it. I guess my official stance on this movie is "I didn't like most of it but when Phil Staples showed up it all became worthwhile. That dude is awesome."
So I watched this movie, and it was all "juice juice juice, juice is awesome, I will now go into awesome diners and try to make people feel bad about their diets because I am a wealthy mildly obnoxious Australian" and all I wanted when it was over was juice, but all I had in the house was a lot of chili. So I had some chili (I also got some potatoes, so technically, I had an awesome baked potato with chili on it) and I ate a carrot because that was the best I could do under the circumstances.
Now, my mother gave me her old juicer a couple of months ago, and it's just been sitting around. I was glad to get it, and I remember using it when I was little to make carrot juice, which I did not enjoy (no small children enjoy carrot juice, pretty sure) so this seemed like a good opportunity to use an appliance that I hadn't used in ages. I love appliances! But I didn't feel well enough yesterday to go get stuff to make weird hippie juice.
[caption id="" align="aligncenter" width="460" caption="20-year-old Waring juicer, last used to make carrot juice that I did not like, about 20 years ago."]
[/caption]
Today, I slept forever, then I went to the store and picked up things to make one of the juices featured in this movie. It's called "Mean Green" (adorable!)
Ingredients:
4 stalks celery
1 cucumber
1 ginger root (size of thumb)
1/2 lemon
2 green apples
6 kale leaves
I went to ALDI and Trader Joe's and spent about $10 (but I'll have enough to make a few batches...ok, did the math and this batch, which yielded about 30 oz., cost $2.62). Peeled the cucumber and the apples (ha - I didn't peel the apples! But I should have! I will next time) and cut off the lemon rind. Then I made some juice!
[caption id="" align="aligncenter" width="614" caption="juice! more juice than expected!"]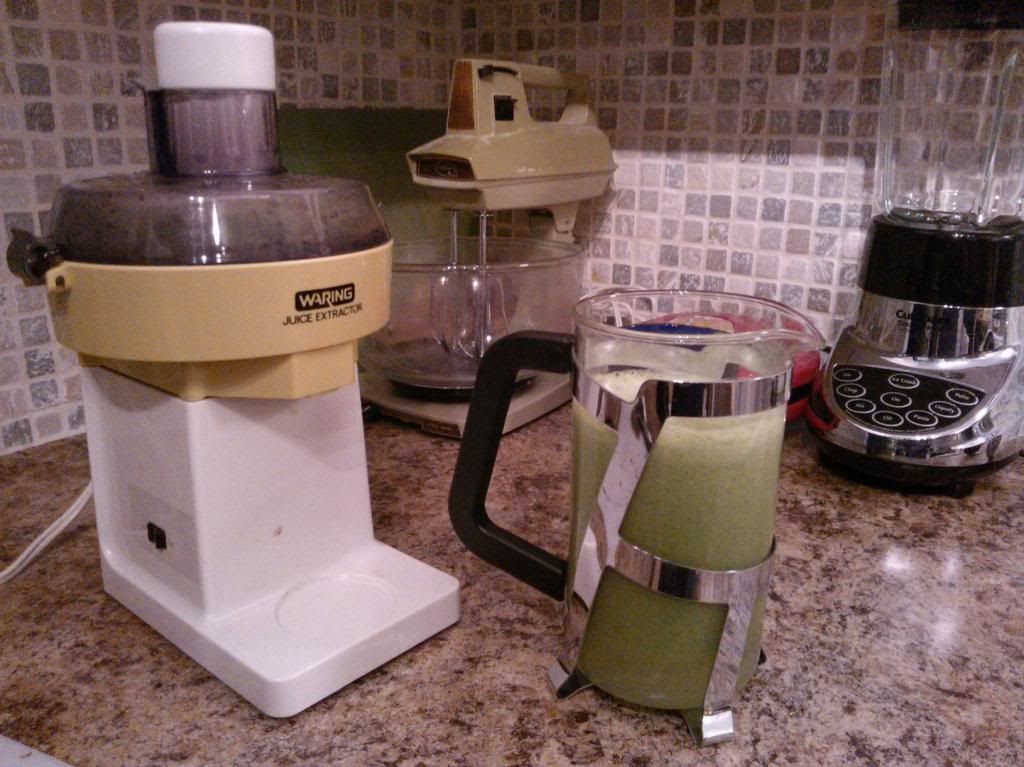 [/caption]
It's definitely healthy juice. It's not super sweet juice like I'm used to, but it tastes nice and it's not so healthy-tasting as to be off-putting (do you know what I mean? I drank kambucha once and the only reason I finished it was because it was $5 and it was so awful I *knew* it had to be good for me. Just me? OK.). I got two big glasses of juice out of it, and I was impressed by how well this juicer did. They have all sorts of fancy juicers now (there's a very long article on
The Wirecutter
about them, which is a fun read if you're into that sort of thing), and I do love gadgets, so I was kind of expecting this to not do a great job. I did try to feed things into the juicer slowly so that it would have a chance to extract the most juice. Juice juice juice juice juice...it doesn't even look like a real word anymore...Clean-up was pretty easy, and overall, it was a neat experience. I will do this again.
Juice!