[caption id="" align="aligncenter" width="614" caption="Gadgets of unexpected usefulness."]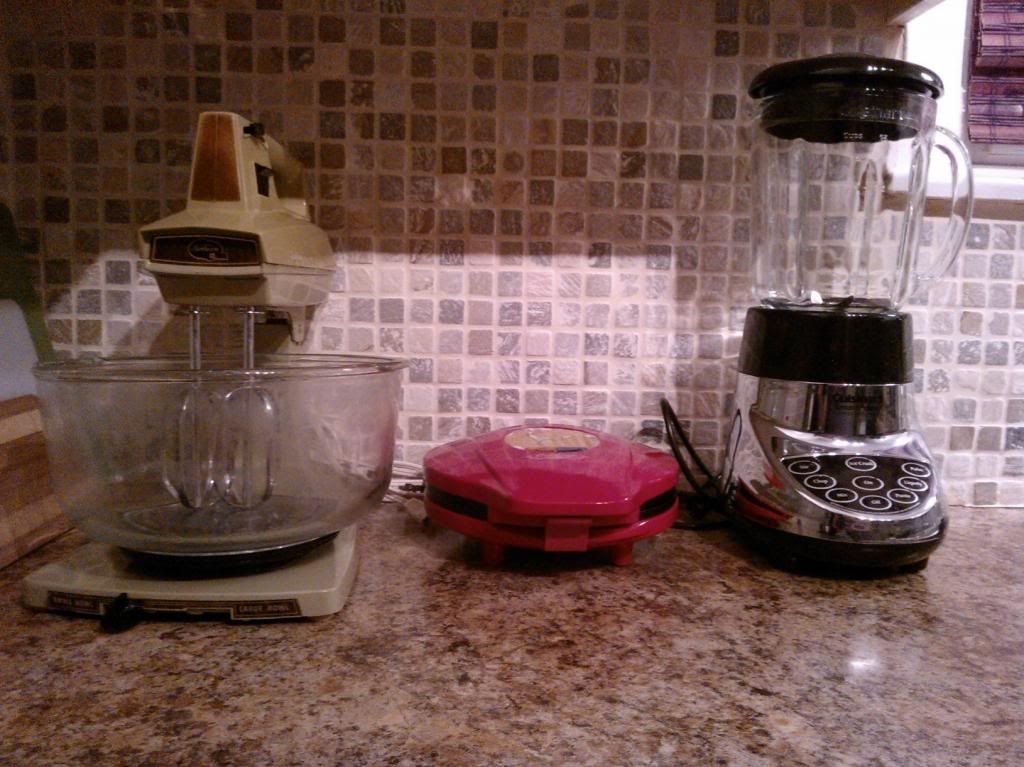 [/caption]
From left to right, this is a 1950s Sunbeam stand mixer, a circus waffle maker from Macy's (clown! elephant! lion!) and a Cuisinart blender I got off of Craigslist.
After getting the stand mixer, I started making cookies. Mostly chocolate chip cookies. Sometimes oatmeal scotchies (FINE. I lied about that in that one post. I have made non-chocolate-chip cookies with this mixer). So many cookies that I don't even eat cookies anymore. I just make them and give them to people. It's becoming a problem. I want to explain that I'm not particularly friendly, I just have a stand mixer...and I feel compelled to bake cookies because it's fun (it is really fun). It's also easy! The alchemy of cookies - you can turn things that had previously sat forgotten in your pantry into little delicious things that might impress people who never bake cookies from scratch (mostly kids these days. they don't know any better.).
The circus waffle maker was purchased for me as a thank-you/joke gift by a friend whom I rescued from a hilariously bad pants purchase. "Do not buy those pants. Go find pants that fit you." It sounds serious, but I was laughing very, very hard, along with the lady in the Macy's men's clothing section. Other things said included "Why do you think those fit you?" and "Can you even sit down in those?" I have used this gadget a LOT more than I ever thought I would. Waffles, as it turns out, are very, very easy to make. And very delicious. When you have a waffle maker, if you get a waffle craving at midnight, you can totally make waffles. Night waffles. And you can sing a song about it to the tune of "Night Moves." It might mostly end up going something like this: "Workin' on some NIGHT WAFFLES!" ... because I do not know any of the rest of the lyrics to that song.
The blender was purchased during a period of time where I was reading a lot about juicers online.
The Wirecutter
is a really interesting/dangerous site. I eventually decided that a blender would be a more reasonable purchase (because of cost and predicted use), and after getting one, I went through a period of several months where I had a smoothie every single day. I also got very interested in the price and selection of various stores' frozen fruit. ALDI has a good mango/peach/pineapple/strawberry mix, that when supplemented with yogurt (plain or vanilla) and banana (fresh or frozen) and milk is super delicious. I almost didn't mind our ridiculously hot summer, because it justified this outrageous amount of smoothie consumption.
Not pictured is the electric kettle I have. It's an electric kettle. I love it. If you like tea, and make pots of it frequently, I highly recommend picking one up. They are cheap, and very fast. So fast.
Recently (earlier today!), my mother brought me a little gift!
[caption id="" align="aligncenter" width="460" caption="Hello, new friend!"]
[/caption]
I am very excited.