[caption id="" align="aligncenter" width="160" caption="Vanity Fair, Bicycling, Everyday Food, Cat Fancy."]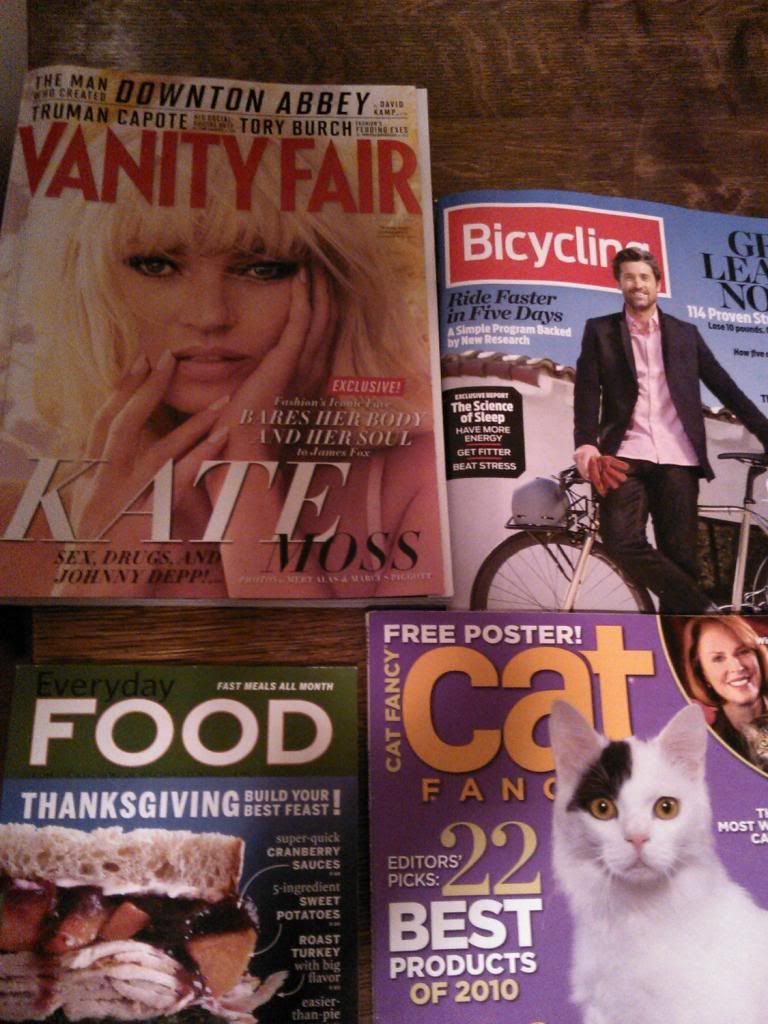 [/caption]
I enjoy reading magazines. Physical magazines. Not as much when they have perfume or cologne inserts, but that's getting harder and harder to avoid. Three of these magazines don't have them! Stay unscented, everyone but "Vanity Fair."
I originally got "Cat Fancy" as a joke gift for an ex-boyfriend, but I find the articles to mostly be interesting and informative. There is an advice column "written" by Garfield. Seriously. It's also worth it for the bizarre ads - things like embroidered fleece jackets that are outrageously expensive, and feature appliques of kittens playing with string. Again, seriously.
"Everyday Food" is a mystery. It just shows up at my house. It's someone else's subscription, but I've been getting it for about a year. It seems like it would be really helpful, if I cooked with recipes. It all seems very straightforward and manageable. I read it cover to cover, and if it ever stops appearing, I may have to subscribe for real.
"Bicycling" is a new addition, because I have only recently start to ride bikes! I got a Raleigh Eva 8.0 mountain bike and a Capri 3.0  road bike in 2012, as well as a very old M60 that I use to ride around town (to the store, mostly). It's really interesting, with a blend of gear reviews and health articles that I find very appealing. It's speaking to a user above both my tax bracket ("best bikes under $3000!"*) and my skill set ("best century rides in the southern hemisphere!"*) but it's a slick magazine with some talented writers.
"Vanity Fair" has a lot more nudity than I would have expected, in that it has any nudity at all. For example, Kate Moss is VERY naked in this issue. Why? Is this really necessary? Who is this magazine for? This is a question I ask myself frequently as I flip through the hundreds of pages of this magazine. A friend of mine gives it to me every month, and I still have no idea who the ideal reader is, nor why they need so many perfume inserts. Booo, perfume inserts. Boooo.
*not real articles, but they COULD be.